I was lucky to get a chance to read Electric Impulse prior to release day. It is a sexy billionaire romance with witty dialogue and very interesting cast of characters. It is like life itself: complicated, sad, happy, full of choices, regrets and hope.
Love is a crazy thing. No matter what you do, don't try to tame it, because it will tame you. Don't try making plans because everything will go off course. And don't try to control it, because it will run you, demanding you move on its time. All you can do with Love is go along for the ride.

(6% Kindle edition)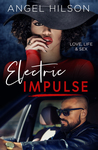 Electric Impulse: Love, Life & Sex by Angel Hilson
My rating: 4 of 5 stars
Electric Impulse isn't an average romance. It is sassy, it is sexy, and it is an emotional turmoil.
Aria and Phoenix have the chemistry that burns the pages. There's no denying that. But flame this hot always scars. Aria's and Phoenix's story isn't without a struggle; there are some serious issues that need resolving before they truly can have a chance together. The question is, can those issues even be solved?
Angel Hilson has written billionaire romance, that is true to its genre but at the same time, with unique twists. I like her style of writing; it is effortless. I like her ensemble of characters, which depict both good and bad sides of human nature. I like that in Angel Hilson's world, women can have men as friends, their own careers, and their our opinions.
One thing that bothered me was how Aria was in my opinion, too quick to give in and forgive. She was supposed to be her own woman, strong and knowing her worth. It turns out, love blinded her, and in the name of that love, all kinds of asshole acts can be forgiven. It made me little sad but that's how life is, we all have our Achilles heel.